Why You Need to Increase Website Speed to Super-Fast!
It may not be your first priority to optimize your website speed but let's get it straight; website speed is a crucial ranking factor in Google's SEO ever than before. Since Google's speed update, website speed is no longer an unimportant factor you shouldn't care about. Having a slow website can be drastically bad for your organic search rankings and eventually for your business.

As Unbounce says, '100-millisecond delay can drop the conversion rate up to 7%'. There is no rational reason to not optimize your website speed in any scenario. So this means that the bounce rate of a website is directly proportional to the website loading time. If your website's loading time is low, the user is more likely to stay and interact with your website.
Why is Speed Important for Your Website?
Does it look like an important factor for you? If not, you're at high risk of getting more bounce rate, fewer conversions, Google penalties, a low number of page views, and bad customer feedback.
Unless you want to face any of the bad results for your website, you need to care about your website speed, THE MOST.
It has been a universal fact that 'faster sites convert more.'
Taking a closer look at human nature, we all are 'impatient,' and that's how the system works. You must tackle the impatience of your visitors by providing them lightning-fast site speed.
How does Website Speed Affect Search Visibility?
We know visitors don't like slow websites; Google also doesn't like it.
Being a crucial factor among Google's 200 ranking factors, site speed is the metric that can disturb every site metric with itself.
Since Google wants to show the best results in return to the search queries, it accounts for website speed to determine the SERPs rankings for each web-page.
If your website doesn't function or load properly, Google won't allow it to be in front of its searchers.
Mobile loading time is even more crucial than the desktop. Your website should be responsive while loading quickly in portable devices.
Fast Site Means Better User Experience
You're not optimizing a website for Google only; users are the ones who should be considered in the first place when designing and optimizing your website.
As Neil Patel says, 47% of consumers expect a web page to load in 2 seconds or less. If your website doesn't load in less than two seconds, you're already behind the expectations of almost half of the internet users.
Digital mediums like mobile phones and virtual screens have shortened the human attention span less than a goldfish.
What's worse?
It is declining at a much faster rate than ever.
The only thing we can help is optimizing our website in the best way so we could be able to capture the glance of the user even with a short attention span.
What Causes the Website to Slow Down?
The first suspect for the cause of slow website speed is 'hosting service.'
Most commonly, it's not your website's fault that triggers the slow speed irregularities on your website. Since most website owners use a shared hosting service, you can't rely on that service for long-lasting uptime and loading speed.
It's not the fault of shared hosting always. Sometimes, web owners prefer cheap hosting services over reliable ones and get stuck with long loading time.
Excessive Use of Plugins
Are you using too many CMS plugins to run your website? You're at risk of slow website speed then.
Know that you don't have unlimited space and storage to install as many plugins as you want to your website. Each CMS and hosting providers have limitations according to which you have to lay your strategy.
Bad or moderately optimized plugins also cause the website speed to slow down. It's advised to pay for premium versions of plugins instead of free and cheap ones.
Uncompressed and Large Images
A high-quality picture can grab the attention of the visitor, but it puts an immense burden on the site loading time.
To get this problem eradicated, use compressed images with small file sizes to optimize the web pages for better downloading speed.
Bad Coded Theme
Always look for website themes that are low in size and SEO-friendly. Not all themes are well-coded and optimized to provide better site speed.
Although an aesthetically pleasing theme might get you more conversions, it could be terrible if the site speed becomes slow due to it, which indirectly affects conversion rates.
Overdone Advertisement
Advertisements aren't like pictures and videos that are hosted on your own CMS platform. They use API and require time to load. If you're wondering what the cause of my slow website speed is, too many ads might be a reason.
Each additional advertisement adds up to the loading time, and it is a significant reason for the high bounce rates of websites.
Best Tools to Test Your Website Speed
Analyzing your website speed is the first step to make it better. Here are the tools that you can use to test your website speed.
- GTMetrix
GTMetrix is the best website speed monitoring tool available online. With its easy-to-use and user-friendly interface, it can show very accurate data for many servers of the world.
Since it is trusted by millions of website optimizers, you'll have to wait for a few minutes to give it time to test the website. Its servers are always up and running to optimize thousands of websites at once.
What Does it Tell?
YSlow Score
PageSpeed Score
Fully Loaded Time
Total Page Size
est Server Region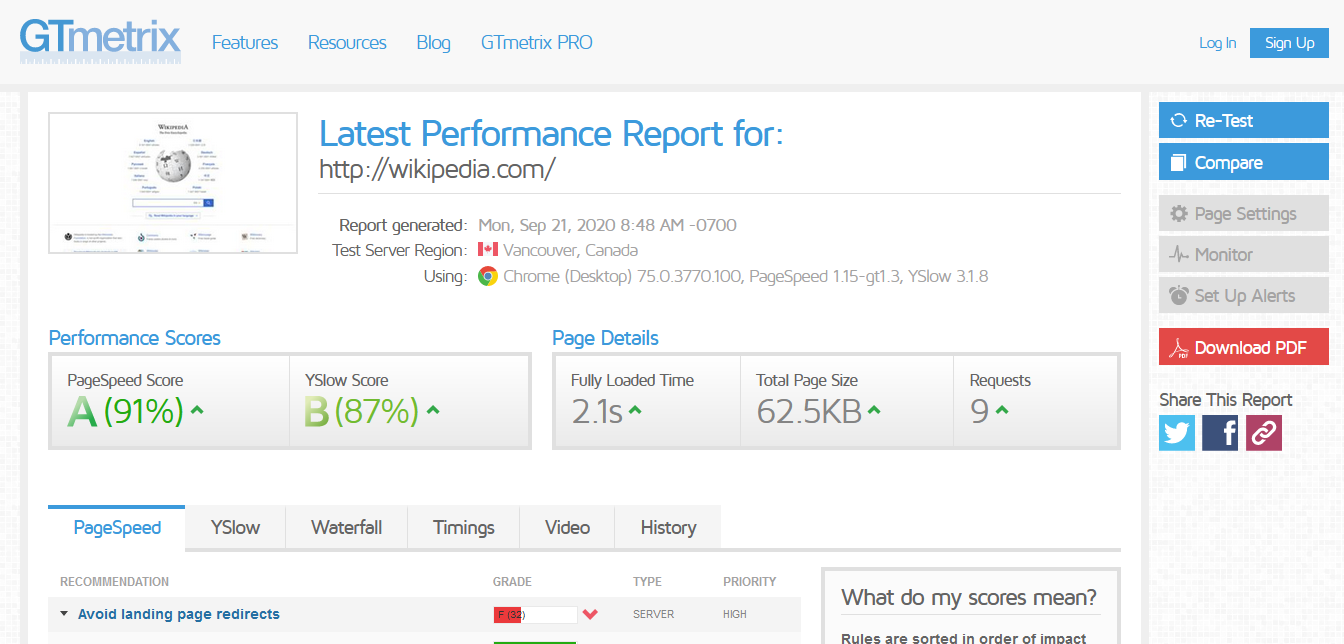 - Google Page Speed Insights
Since Google doesn't want you to run a slow website, they have developed a site optimizing tool for the developers.
What could be more trustable than Google telling you the personalized ways to optimize your website speed?
Well, it's possible.
You may use Page Speed Insights by just dropping your URL into the text box and submitting it.
Within a few moments, you'll get an instant report, including site recommendations and detailed analysis of website performance.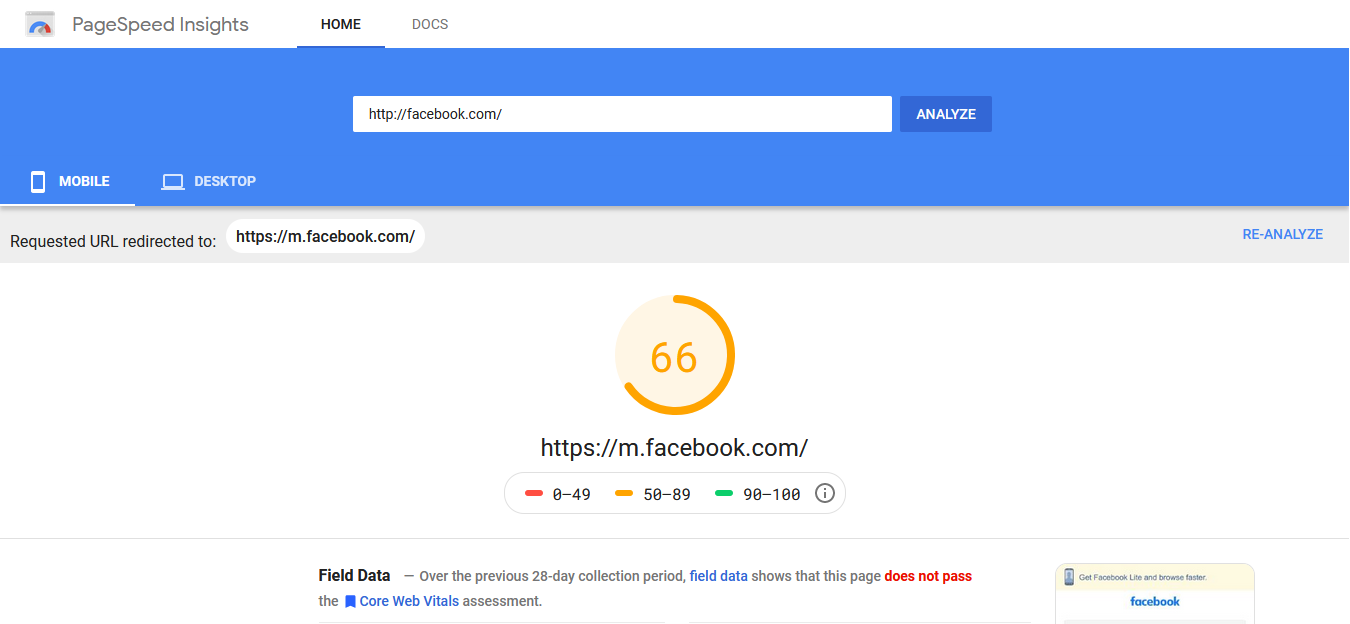 Conclusion
Website speed is the backbone of your site performance. The importance of website speed can't be more emphasized.
It's your time to take action and hire someone to reduce site loading time and skyrocket your speed.